In fact,
Fiverr
offers an additional level that we haven't talked about yet – it's called
Fiverr Pro.
In order to become a "Pro", a Fiverr provider must submit a special request to Fiverr staff, along with a portfolio of their work; all requests are reviewed manually, and only the top 1% have access to this status.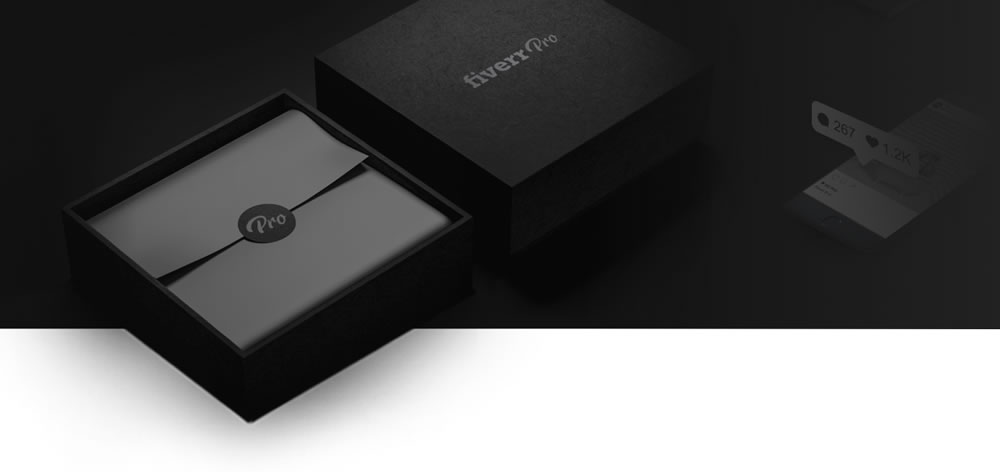 In a way, Fiverr Pro is quite similar to the Top Provider level – by being even more exclusive.
What about the prices?" Pro" = more expensive? Does it make sense to choose a Fiverr Pro provider when the filters already select top providers in the normal Fiverr search?
It's true that services offered by Pros tend to cost 2 to 4 times more than services offered by non-Pros in the same categories, so these services are not really cheaper than what can be found on more traditional platforms like Upwork.
But here's the thing:
Fiverr Pro is not a separate platform: same online marketplace, same user account, same everything – it's just one level in Fiverr's hierarchical system of providers (the highest).
To reinforce this point, there is even a special button to show only offers from Pros on the normal Fiverr search!
Which brings us to the main advantage of Fiverr as a freelance platform :
Fiverr gives you access to the widest variety of choices. Want to get something done quickly and cheaply? No problem. Looking for error-free and very neat work? Right now!
In other words, you can combine, according to your needs, the cheapest to the top 1% – and the in-between. What other platform boasts such a degree of flexibility?
Speaking of percentages…
BONUS : 10 % discount voucher on Fiverr
Whether you decide to try Fiverr or not, it's nice to know that you can still save on your first order, right?
…Note that the keyword here is "first" – I insist that the code below only works for new customer accounts :
Click on the big red button below to visit the Fiverr website; it will open in a new tab, for your convenience:
Find the offer you wish to purchase, choose the package you want and click on the green order button (if you have read our advice, you have already contacted the provider 🤓).
On the next page, choose the necessary extras and click on the "order now" button on the right (these different order buttons are slightly confusing, but don't worry, you haven't paid anything yet).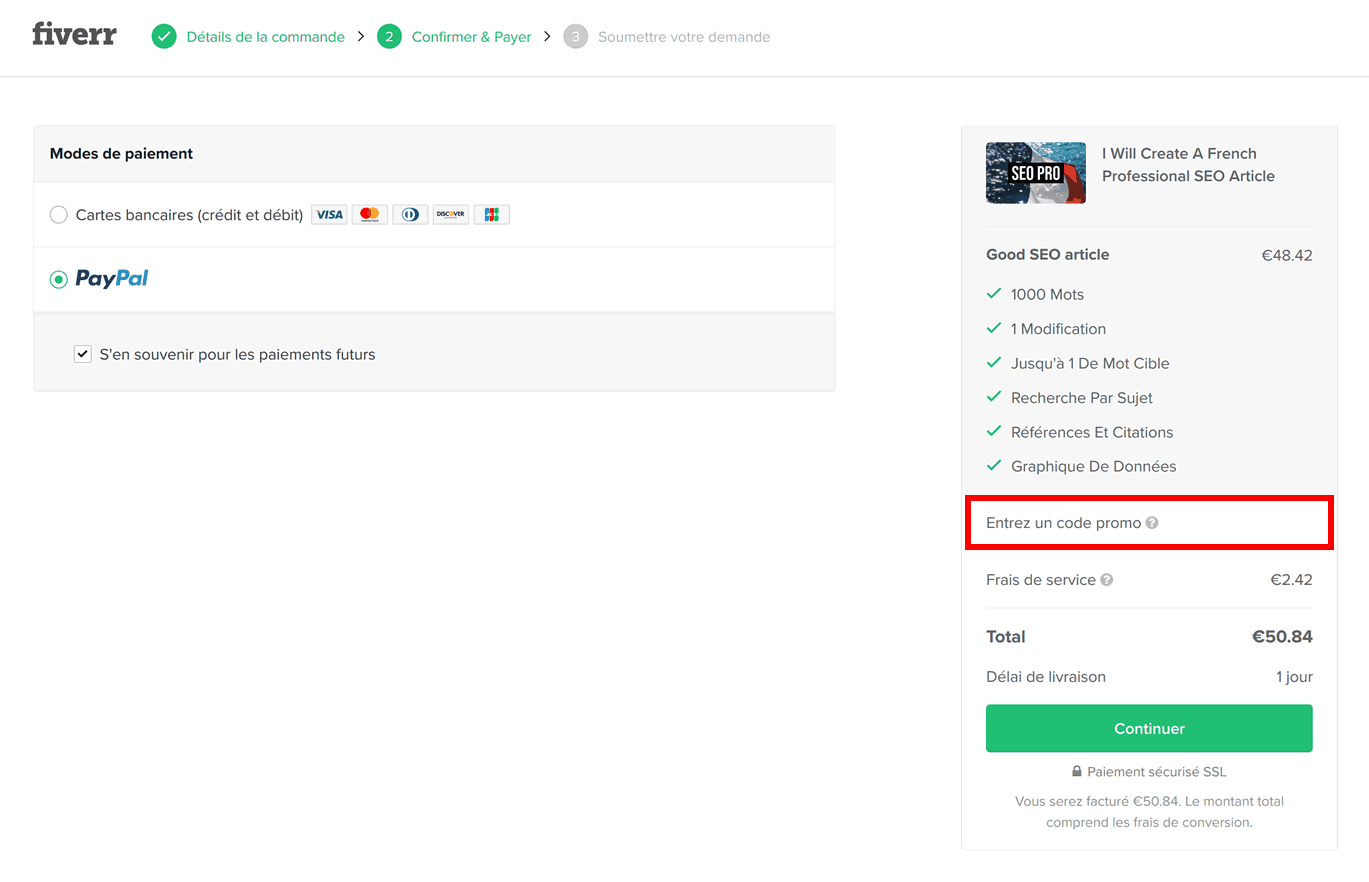 4. In the order summary on the right side of the screen, you will see a promo code field: click on it, then copy and paste the following code into the field :
GIVINGA10
5.Click on the grey "Apply" button and see your total decrease by 10%. You can now finalize your order at the reduced price.
In the previous sections of our guide, we learned how to get the most out of Fiverr – now you even have a tip to save even more!
---
What about the other side of the market? Is Fiverr a lucrative market for freelancers? Let's find out:
How to SELL on Fiverr

(Again, if you're an online service buyer, this part may not apply to you – feel free to skip to the final summary).
As with everything else, approaching the world of freelance work in a carefree manner will probably not get you very far;
which could be particularly true for Fiverr, especially "thanks" to the fierce competition and strict rules that govern this platform.
Despite this, Fiverr is probably one of the best places to start earning a living online as a freelancer; the focus on microservices allows you to quickly experiment and perfect your offers every day, while the provider level system guarantees to make your life easier once you have reached a certain level of competence and confidence on the 📈 platform.
To reiterate – it won't be fun, and you'll have to work hard at the beginning; however, a part-time income of $1,000-2,000 per month might be worth it.
Based on our personal experience with many accomplished Fiverr claimants, we have put together the following tips to help you on your journey to the top of the Fiverr claimant hierarchy:
🔎 Define a narrow niche to start: there are thousands of freelancers offering "logo design" and "copywriting" services on Fiverr – don't be too generic, at least not until you're a top provider!
💼 Create a portfolio of offers: instead of putting all your eggs in one basket, offer as many offers as possible. Take advantage of Fiverr's frenetic pace: regularly replace the least popular offers with new ideas to maximize your market.
🎯 Hit the bull's eye with your title, image and description: include relevant keywords (but don't overdo it) and use beautiful, high quality, eye-catching images.
💰 Compete on prices to add to your portfolio: positive reviews and 5-star ratings are essential to be visible on Fiverr – to get some as quickly as possible, why not lower your prices for a while to invest in your future profile?
💌 Show all clients that you care about their project: a single negative review can send you back to the bottom of the scale compared to higher-level providers. Treat every client with respect and do your best to deliver quality work on time (yes, it seems obvious, but it is surprising how many Fiverr freelancers fail to follow this simple advice).
🚀 Be strategically generous: sometimes it's just a matter of meeting expectations intelligently – in other words, your clients will be happier if you promise moderate service and exceed their expectations than if you promise the moon and don't do your best.
📊 Monitor your performance as a service provider! It's hard to overemphasize the importance of response time and delivering work on time – Levels 1 and 2 are automatically assigned by Fiverr's algorithms based on these statistics.
🕗 Avoid stress by taking breaks. However, if you are planning a vacation or time for yourself, don't forget to activate the "unavailable" mode of your Fiverr account to avoid frustrated customers flooding your mailbox.
📚 Take training to increase your confidence in your abilities and the visibility of your profile. Did you know that there is a complete library of professional training courses on Fiverr that allow you to earn badges and highlight them on your provider profile? Now you do.
In short – thinking long-term, being original, delivering work on time, and exceeding customer expectations are strategies that can help even a novice freelancer reach the highest levels of provider on Fiverr.
And, once you have reached level 2 (or even better – Top provider or Fiverr Pro), the platform can easily become your first source of revenue.
Our verdict: get the best out of Fiverr

Fiverr has come a long way from its origins as an eclectic catalog of services that freelancers were willing to offer for $5. It's now 2020, and Fiverr has become one of the largest online service markets in the world!
What is the main advantage of Fiverr compared to other platforms?
Its impressive range of choices for every budget.
Its impressive range of choices for all budgets! As a customer, you can find every service imaginable on Fiverr, from the lowest prices to premium offers.
Who should use this online marketplace to buy services?
Fiverr can be especially useful if you want to hire a freelancer for your project and are looking for: flexibility, variety, transparency and, of course, convenience.
What is the best way to approach Fiverr as a client?
Take advantage of filters, be careful when comparing offers, contact providers before placing an order, treat the other party with respect and build positive, long-term relationships with the best freelancers.
(If you decide to try Fiverr, don't forget to use the 10% discount coupon on your first order – all instructions are detailed in this section of the guide).
On the other hand, how can you excel as a Fiverr provider?
Your goal should be to reach higher levels of provider as quickly as possible: create a portfolio of niche offerings and make sure you always offer excellent service and pay attention to your performance and statistics.
---
Not sure if Fiverr is the right platform for you? Do you have something to add to our analysis? Want to share your experience with Fiverr? Go to the comments section below!
thanks for reading 🙂